Help spread the word - become an Ambassador!
Ambassadors are key to helping UWL be successful on One Day for UWL! Help broaden the reach of One Day for UWL by emailing, sharing, forwarding, and posting what you love most about UWL to help create excitement before and during the event.
On the right, you will see an area to sign up using either your email address or by linking your Facebook account.
The Basics:
Make your gift during One Day for UWL and encourage your friends to do the same

Once you sign up to be an ambassador, you can find sample social media posts and images, answers to our most frequently asked questions, and more! Use the resources in the toolkit, along with your unique ambassador link, to help spread the word!

Be sure to use the hashtag #livemaroon when you post a video, picture, and/or graphics
Win $$ to you favorite area at UWL:
1st place: $250 for the ambassador who brings in the most donors
2nd place: $150
3rd place: $100
The three official/enrolled Giving Day ambassadors who receive the most gifts using their unique ScaleFunder link will win the challenge. Donations must come through the ambassador's unique ScaleFunder link in order to qualify. Winners will be given the opportunity to designate an additional donation to the area of their choosing at UWL.
Win Merch:
Make your gift using your ambassador link and encourage friends to give through your ambassador referral link during One Day for UWL and score your merch: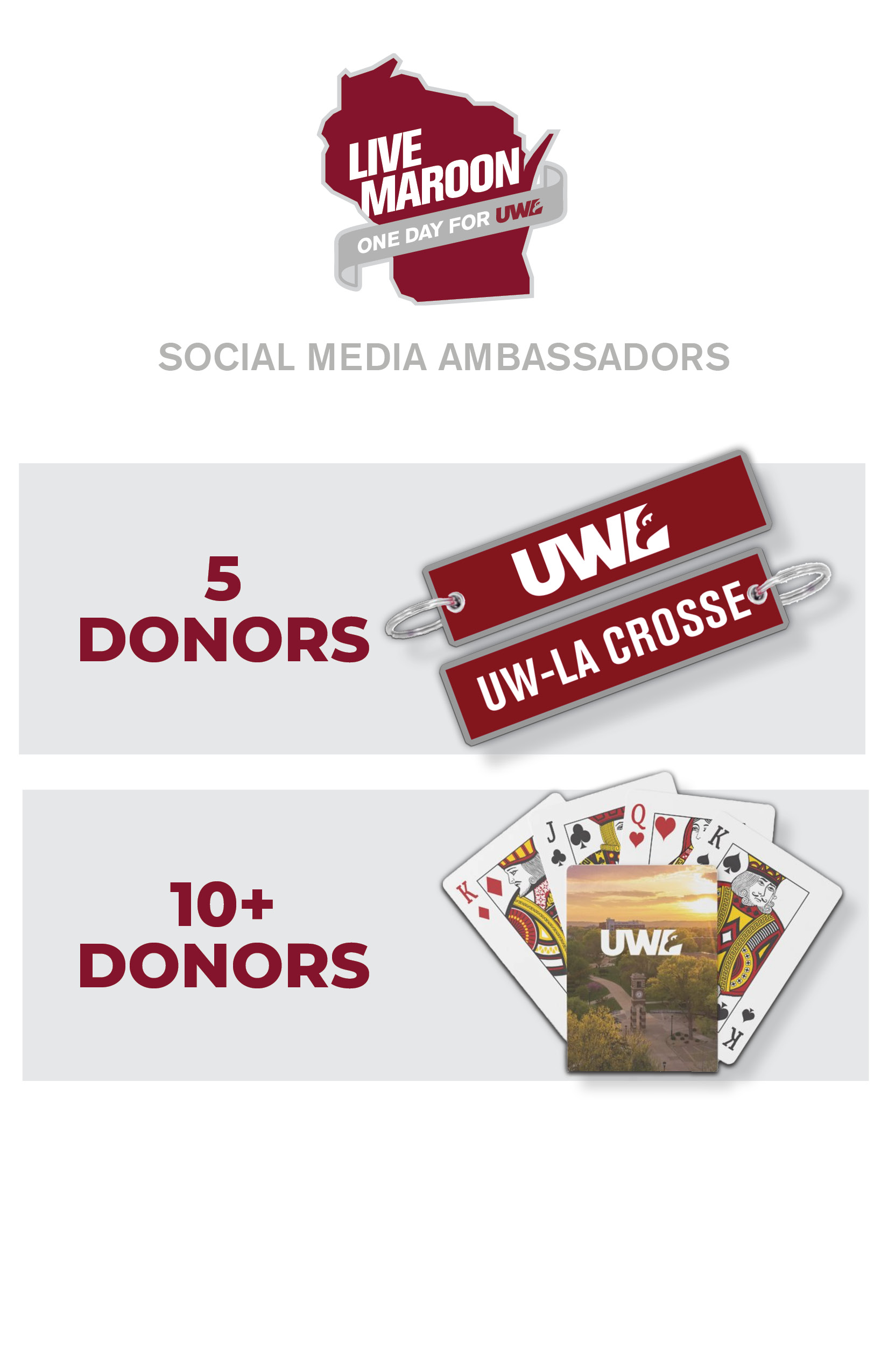 Photo Kit & Ambassador Toolkit:
More sample posts and images are available in the Ambassador Photo Kit and Ambassador Toolkit. (You will need to download the word document to save the photos in the Ambassador Photo Kit).
Example Social Posts:
It's One Day for UWL! I made a gift to

[area]

, and you should, too! Visit uwlgivingday.uwlax.edu #livemaroon





Today is the day! Head to uwlgivingday.uwlax.edu to see the many areas you can impact! Super excited for the chance to support the University that gave me so much!





Join me in making a gift during #livemaroon- even $5 can make

an impact on the area you care about most. I don't want you to miss out - make your gift today at uwlgivingday.uwlax.edu


I #livemaroon because _____________. What do you love about UWL? Support it with a gift today!


(Add a photo, too!)
More sample posts and images are available on the graphics page and Ambassador Toolkit.
Need help signing up? Click here for a step-by-step video!